The ShapeShift integration in the BitPay Wallet lets you trade between all the crypto currencies supported by our wallet. Some currencies may not be available in certain regions.
Note: ShapeShift is not compatible with the Copay Wallet, only the BitPay Wallet. (How is the BitPay wallet app related to Copay? How is it different?)
You can follow the instructions below to use ShapeShift with the BitPay Wallet:
Make sure you have the

BitPay App installed

.

Make sure you have created wallets for the two currencies you want to exchange.

Make sure that you have funds to shift. For example, if you wish to shift BTC to BCH, you will need to have a BTC balance in your wallet.
For this example, we will be converting BCH to BTC in the BitPay app. We therefore need to have a BTC wallet as well as a BCH wallet which has balance.
From the BitPay App's home screen, scroll down and click under

Services

and then

ShapeShift

.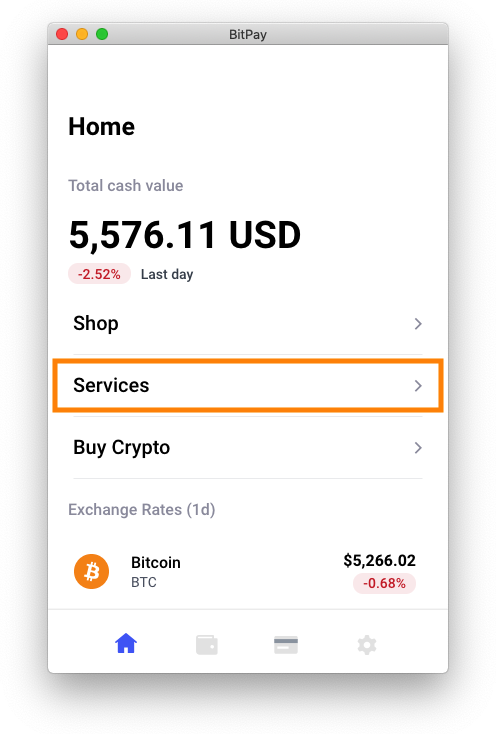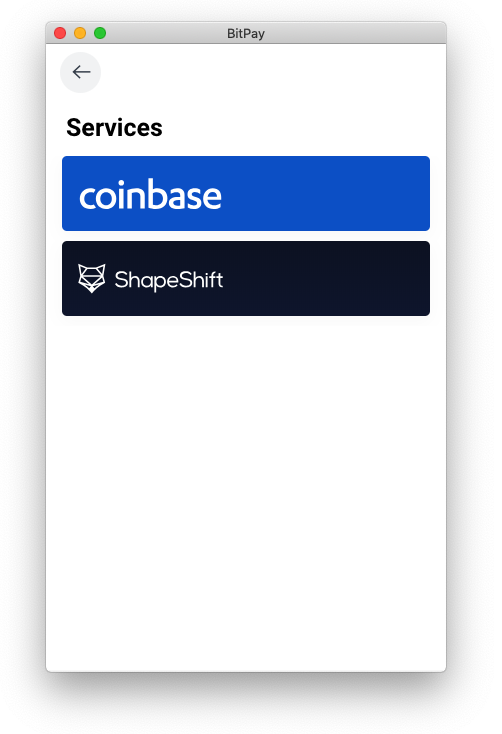 5. Click Connect to ShapeShift Account if you already have one. If you do not already have a ShapeShift account, click Sign Up for ShapeShift.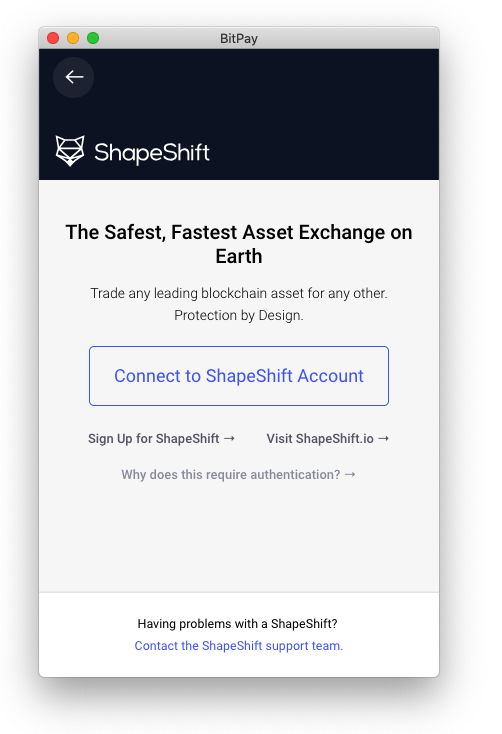 6. After you have signed into your ShapeShift account, click VERIFY ACCOUNT.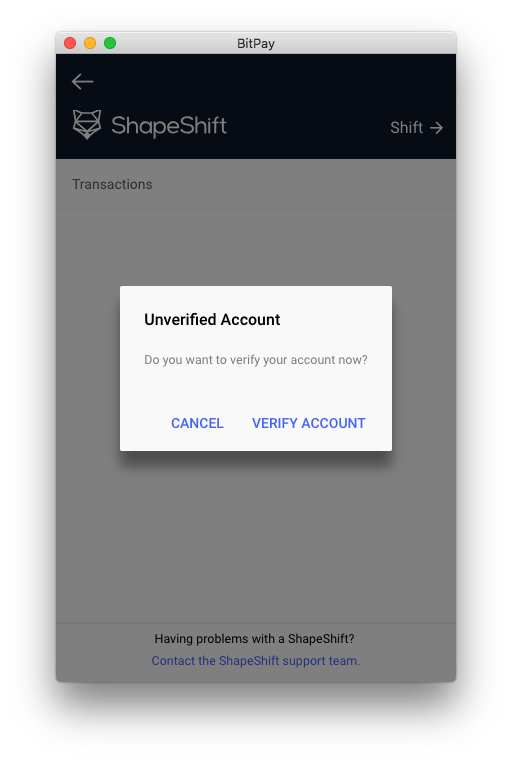 7. Next, click Verify Email near the middle of the screen to start verifying your email address.

8. Follow the instructions to provide your verification information. After you are verified, you should see a confirmation page.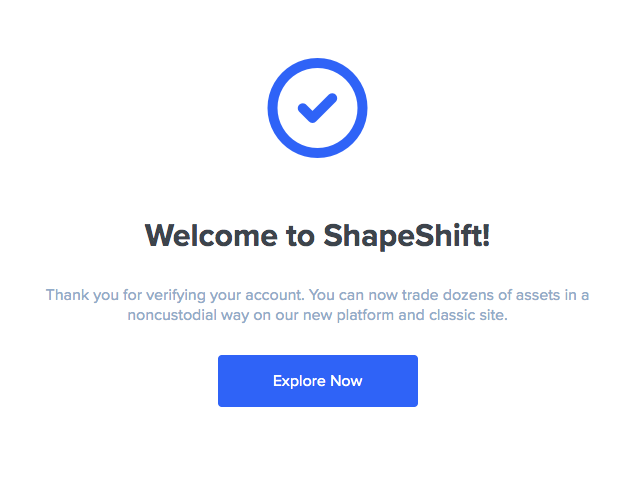 9. After verifying your account with ShapeShift, go back into your wallet. Click on ShapeShift again under services and it will pull up the following screen. Then click on Shift.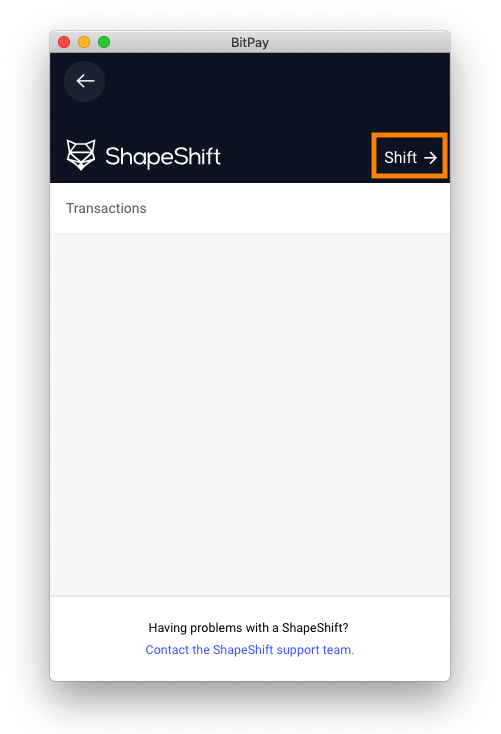 In the

From

field, select a Bitcoin Cash wallet, in the

To

field, select a Bitcoin wallet.




*Please note the conversion rate, deposit minimum, deposit maximum, and the miner fee.
11. Check the box to agree to ShapeShift's Terms (1) and click Continue (2).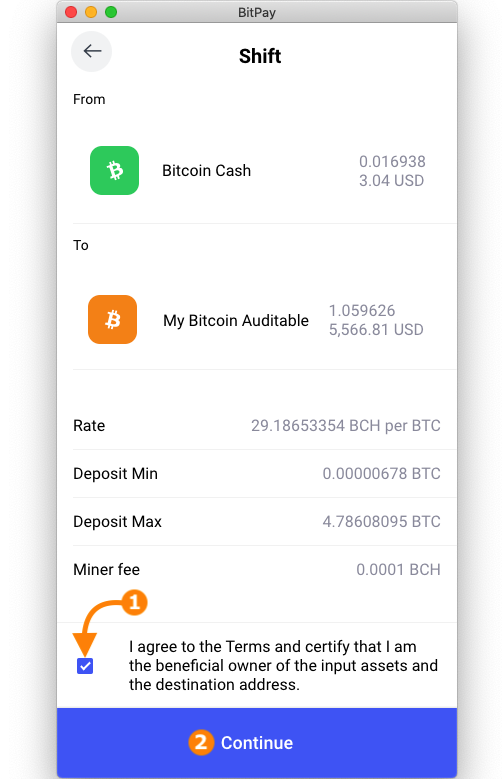 12. Specify an amount to convert. Make sure this amount is between the Deposit Min and Deposit Max shown in the previous step. Click Send Max to send the max amount from the wallet.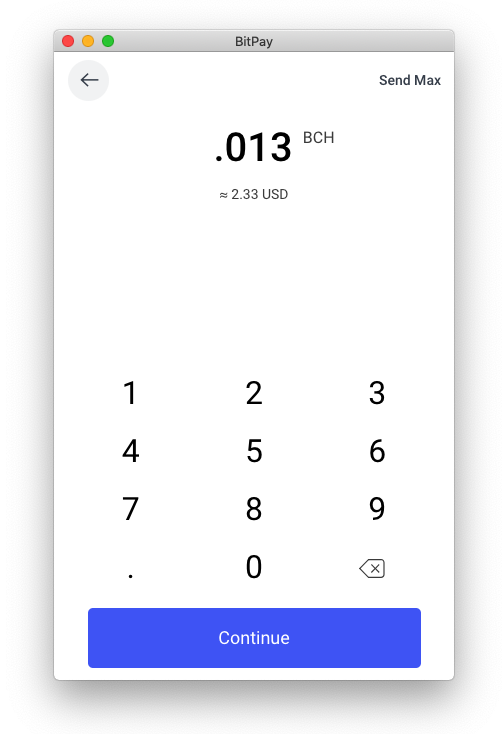 13. Click Continue to proceed to the confirmation step. The confirmation step shows the amount you are converting and the corresponding USD values.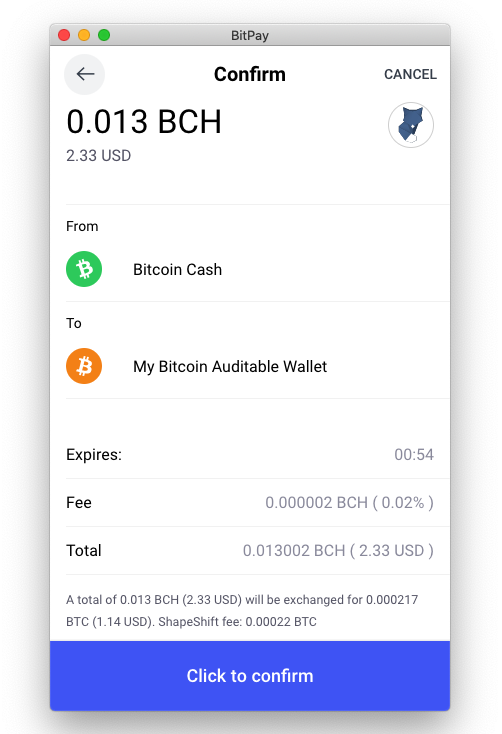 14. To complete the transaction, click Click to confirm. Then, confirm that you want to proceed on the pop up window. If you have set an encrypted password, you will need to enter it to approve the shift transaction.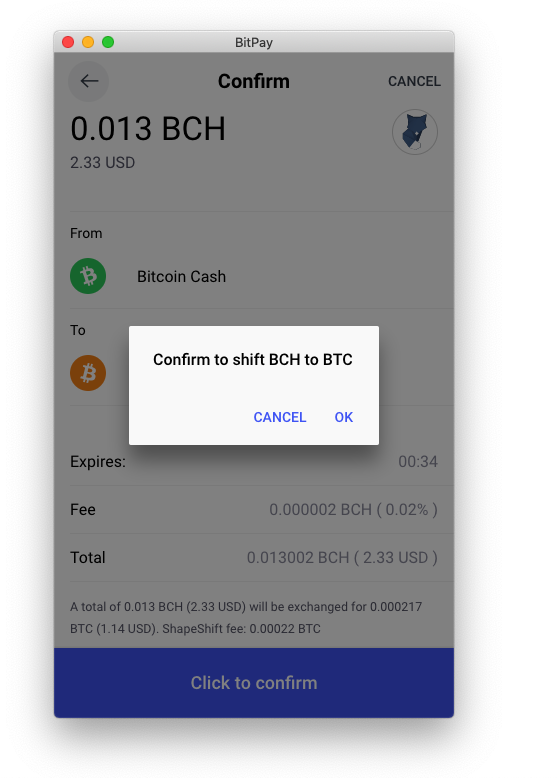 15. After confirmed, you will return to the main ShapeShift page within your BitPay App. You should be able to see your pending transaction.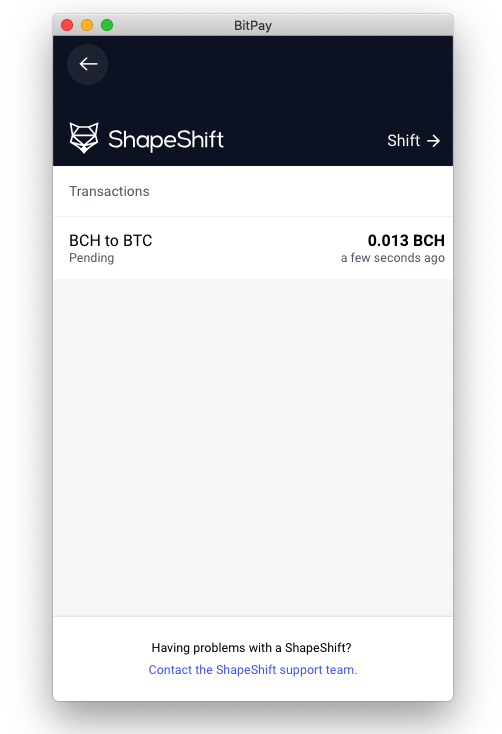 After your transaction is confirmed on the blockchain, ShapeShift will complete the trade. Then, you will receive your new BTC or BCH balance – usually within minutes.
If you are waiting on a shift to complete, you can check the status of your shifts on the home screen of the ShapeShift integration.