If a BitPay merchant has initiated a cryptocurrency refund for an order you placed, you will receive an email from noreply@bitpay.com. This email will come to the email address you originally entered when you paid, telling you the merchant has authorized a refund. You will need to use the same shopper ID you used when making the payment to claim your refund.
You may also receive a refund email in the event you underpay or overpay an invoice. In the event of payment exception, you will be charged the miner fee of your refund. In the case of a merchant initiated refund, fees will be charged to the merchant. Users must log in to receive refunds for payment exceptions.
Note: Refund email links expire within 3 days, so please claim your refund within 3 days of receiving your email.
Follow these steps to submit your refund information and submit the refund for processing by BitPay:
1. Open the email and click
Collect Refund
.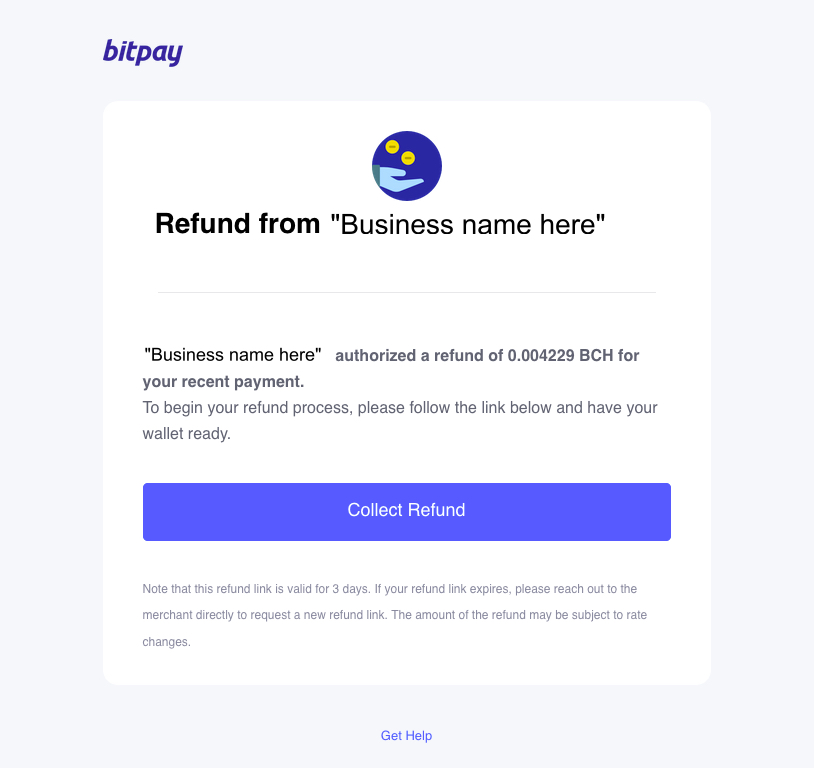 2. Enter your wallet address for your refund.
You will be refunded in the same cryptocurrency you used to pay the invoice.
A valid Bitcoin address is a set of around 34 mixed case (upper/lower) alphanumeric characters (0-9, a-z, A-Z) which start with a 1 or a 3.
A valid Bitcoin Cash address begins with the letters bitcoincash, followed by a long series of letters and numbers.
A valid Ethereum or ERC20 address is a set of 42 hexadecimal characters (0-9, a-f or A-F) which starts with 0x.

A valid XRP address will start with an uppercase 𝗫 and is followed by a series of letters and numbers which will also contain the account's destination tag.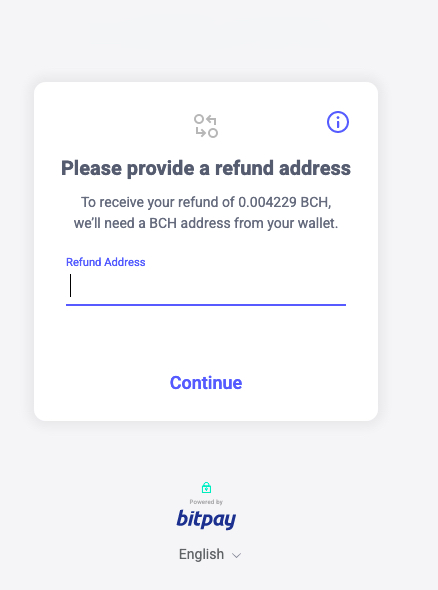 3. Your refund will be sent to your refund address within 1-2 business days.
You will receive the refund amount shown under AMOUNT TO BE REFUNDED. In the example shown, you will receive a bitcoin amount equivalent to 5 USD at the current exchange rate when the refund is processed.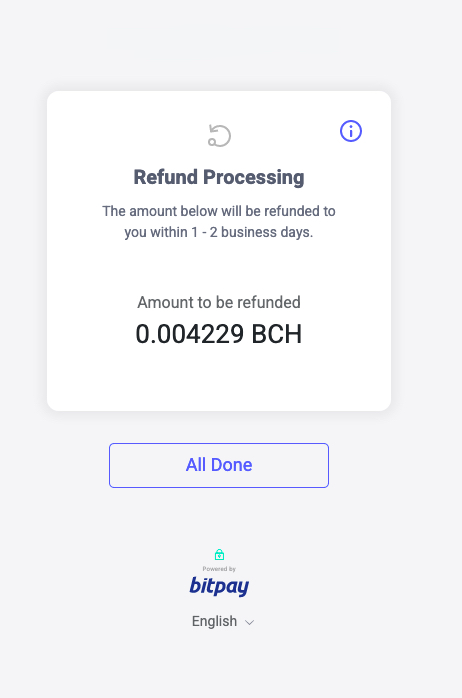 You will receive the following email to confirm that your refund is processing: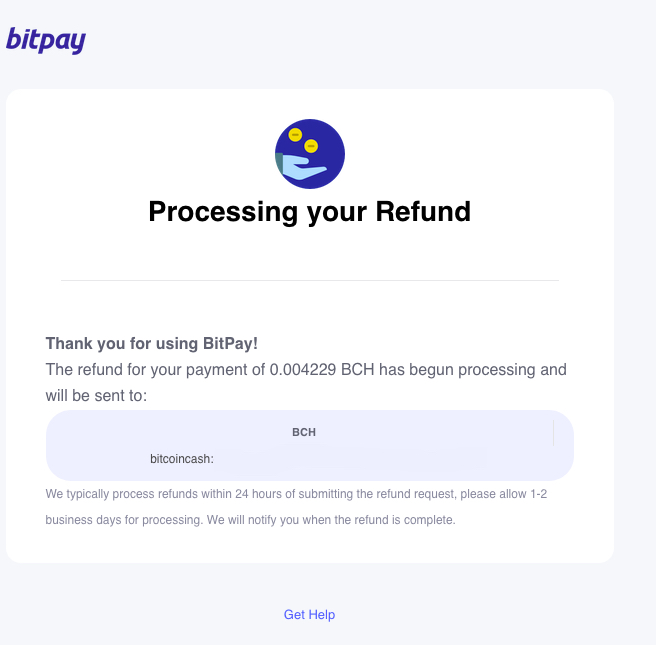 If the refund is unable to be processed, such as if the merchant has insufficient funds, BitPay will contact the merchant automatically on your behalf. Refunds unable to be processed expire after 10 days. If this occurs, you will need to contact the merchant to resolve the issue.
If your refund is the equivalent of 1000 USD or more, you will need to complete the BitPay ID verification process in addition to the steps above. You will need to provide your legal name, country of residence, and birthdate. Then, you will take pictures of an approved document and take a selfie. Be sure to type your legal name exactly as printed on your identification document. Ensure that the entire document including all four corners is visible.