We collect information from our merchants in line with our internal policies and procedures. Higher processing volumes require us to collect additional information to verify the identity and nature of the businesses we are servicing.
Tier upgrade request
If you want to raise your approved processing volume limit, first make sure that you are logged into your merchant account. From the dashboard home page, go to Settings and click on the Increase Processing Volume button.
You will then be redirected to a page were you can apply for the Tier which suits your business needs.
Once you click on the Apply button for a given Tier, you will get an overview of the documents required for the application.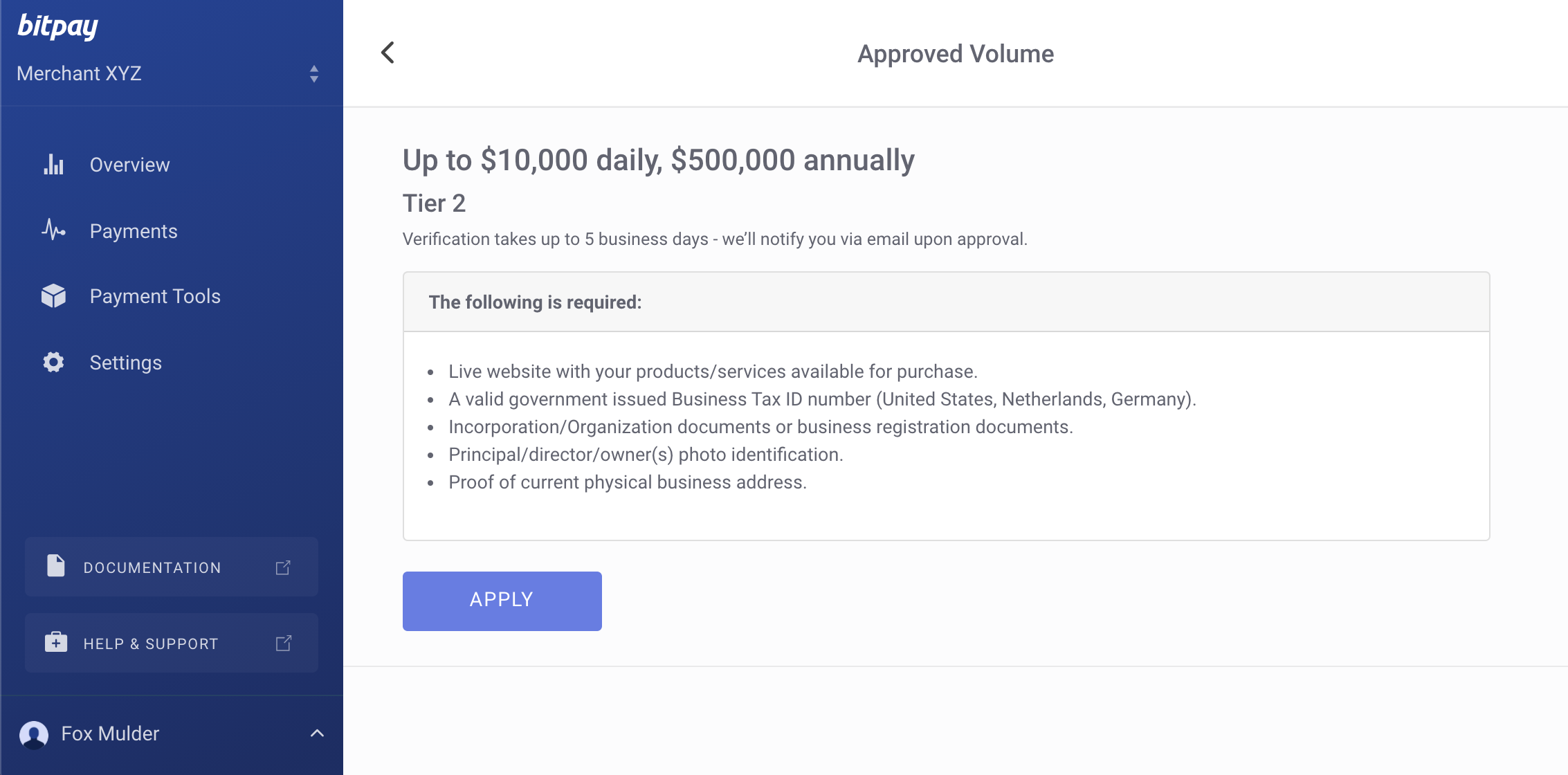 Once you click on the Apply button at the bottom of this page, you will be redirected to a different platform where you can securely upload the information and documents required by BitPay.
Overview of Tier requirements

Tier
Daily Volume Limit

Yearly Volume Limit

Required Info & Documentation
Tier 2
10,000 USD
500,000 USD

Legal Name of Business
Business address
Live Business Website or Profile (publicly accessible)
Business Phone number
Beneficial Owner's full legal name and date of birth
Incorporation/Organization documents or business registration documents
Principal/director/owner(s) photo identification (front and back of document)
Proof of current physical business address (not older than 90 days)

Tier 3
100,000 USD
5,000,000 USD

All of the above

Three months of business bank statements or a letter of good standing from the bank (not older than 90 days)

Tier 4
> 100,000 USD
> 5,000,000 USD

Tier 3 approval

Enhanced review with BitPay Risk Management
How is the approved sales volume calculated?
Merchant approved sales volumes are on a rolling 24 hour time frame. This means that when an invoice is created, the corresponding amount is deduced from your approved sales volume for 24 hours.
Note: Generated but not yet paid invoices also count against your limit until they expire.
For example: with an approved processing volume of $10,000 per day:
If your customer creates an invoice for $250 on September 1, 2020 at 12:00 UTC, your approved processing volume will be reduced by $250 until September 2, 2020 at 12:00 UTC.

On September 2, 2020 at 12:01 UTC, your approved daily processing volume will be reverted back to $10,000 until another invoice has been generated.