If you want to learn how to protect yourself from Bitcoin and Bitcoin Cash scams, check out our blog post. If you know of a scam that could affect BitPay's users and you don't see it on the list, please email us at thoughts@bitpay.com with the subject line "Bitcoin Scams:"
Scammers Pretending to be BitPay
Our users have reported people posing as BitPay support to get sensitive information from them. Reminder: BitPay will never ask for your private key, passwords, or your twelve word backup phrase.
Scams on Twitter
On Twitter, fake BitPay impersonator accounts have been posting about an Ethereum give-away. Remember that the only official BitPay accounts are @BitPay and @BitPaySupport.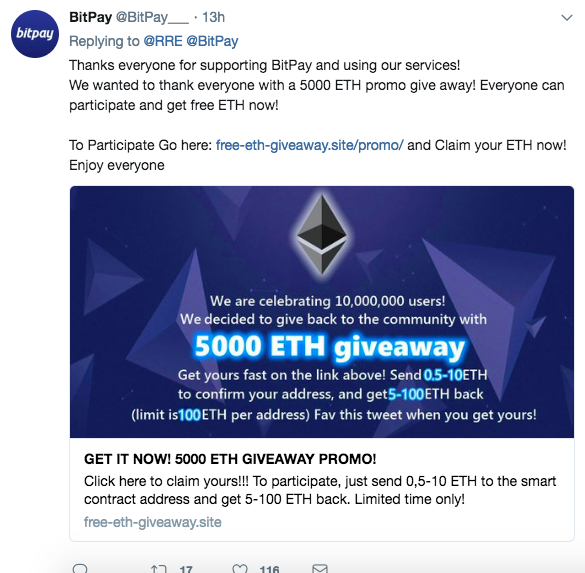 Support Phone Number Scam
Some BitPay users have been directed to call a fake BitPay support phone number. Our cardholder services call center number is 1-855-884-7568. You should assume that any other number claiming to offer BitPay phone support is a phishing scam.
We have mainly seen this scam on Reddit and Twitter in response to support questions. The scammer will answer and tell the person posting to call the support team and provide a  fake number. These same numbers have been posted on various forums and listed as support numbers for various companies. This is so these fake numbers will show up under searches for "BitPay phone number".
General Cryptocurrency Scams
People will ask for online donations on social media using cryptocurrencies. Use the same caution and common sense that you would when dealing with strangers asking for money in real life.

If anyone says they will give you Bitcoin, Bitcoin Cash, Ethereum, or any other cryptocurrency if you give them some first, they are scamming you. You do not need to send any cryptocurrency in order to receive it.
---
Again, if you know of a scam that could affect BitPay's users and you don't see it on the list, please email us at thoughts@bitpay.com with the subject line "Bitcoin Scams:"