​
Shopify is a powerful, versatile online store for any business. BitPay works directly with Shopify to integrate cryptocurrency payments directly into Shopify's hosted checkout system. Enabling cryptocurrency payments in your Shopify store is simple and requires no coding knowledge.
You can get started by following the instructions below but first you will need a Shopify account.
Obtain BitPay API token
To create a new BitPay API key, log in to your BitPay account. Once you're logged in, go to Manage API Tokens, available in the Payment Tools section.
If you don't already have an API key, create a new key by choosing Add New Token:
Make sure the

Require Authentication

checkbox is not checked

Use the

Token Label

field to indicate the token purpose, for instance "

Shopify

" (so you can easily identify it in the event you have multiple tokens)
Then click on the Add Token button. You will need the API Token returned (a string of 44 letters and numbers) in the next step.
​​

Enable BitPay Payments in Shopify
To turn on BitPay payments in Shopify, log in to your Shopify admin account, and select Settings > Payment providers > Alternative payment methods > Alternative payment methods > Choose alternative payment > BitPay.
​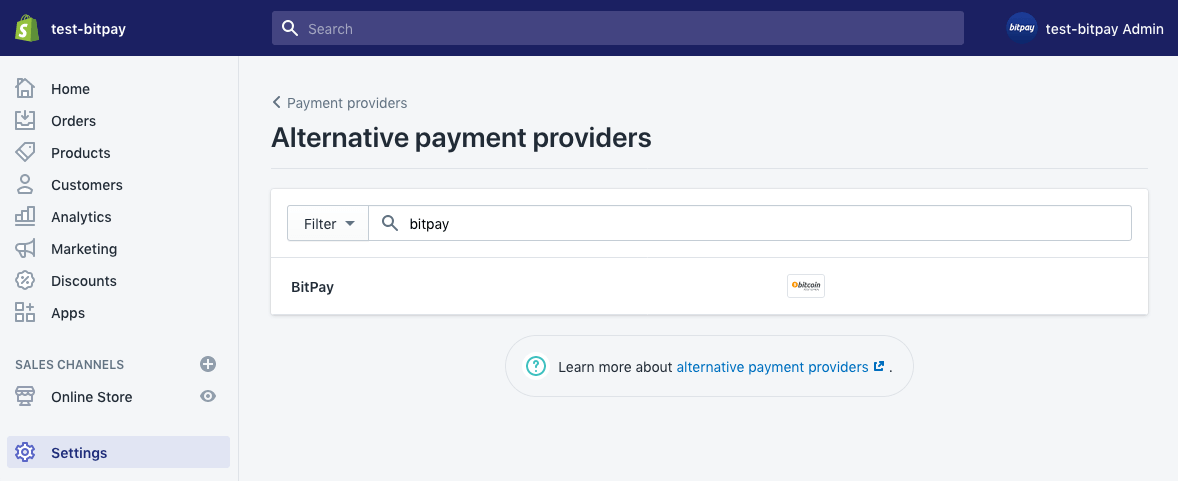 ​
The BitPay payment method will appear in the list of Alternative payment methods. Click the Edit button next to it. On the following screen, you just need to copy & paste the API token previously created, then click the Save button in order to complete the setup.